City Beach
Establishment and clothing store at Westfield Mount Druitt, 210 Luxford Road, Mount Druitt, NSW 2770, Australia. Here you will find detailed information about City Beach: address, phone, fax, opening hours, customer reviews, photos, directions and more.
Opening hours
| | |
| --- | --- |
| Sunday | 10:00am — 05:00pm |
| Monday | 09:00am — 05:30pm |
| Tuesday | 09:00am — 05:30pm |
| Wednesday | 09:00am — 05:30pm |
| Thursday | 09:00am — 09:00pm |
| Friday | 09:00am — 05:30pm |
| Saturday | 09:00am — 05:00pm |
Photos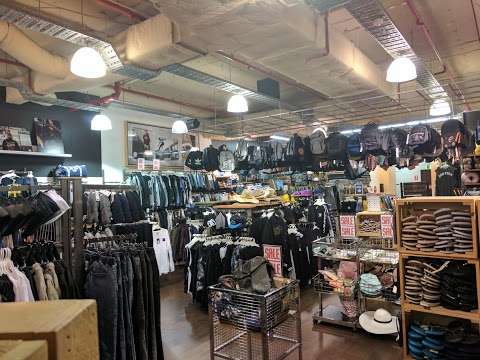 Reviews of City Beach
Simon Dixon Added May 23, 2023

★ ★ ★ ★ ★

Drove to multiple CB stores with no help from staff. The team here helped me on a late Sunday afternoon after travelling 3 hours to get a product.

vadermarvel Added May 19, 2023

★ ☆ ☆ ☆ ☆

I've worked in retail half my life. I've never been so rude, lazy and disinterested in customer service & my job. 2 Asian girls who were too busy laughing with each other and taking ages between finding shoes... it's not that hard.. you scan the shoe to find availability... it shouldn't take 10 minutes to find 1 shoe. So useless. If you're the owner your staff just turn up for a pay check

Cat Added May 16, 2023

★ ☆ ☆ ☆ ☆

I see reviews from 2+ years ago saying the customer service was terrible and nothing has changed. I went in on the weekend to buy a hat that they had in stock but said won't be put in the floor until this week and they won't sell it to me. I then go in today when it's supposed to be stocked and the cashier is dismissive and unhelpful saying "it's probably not tagged". Not good enough! I waited for them to stock it, I need it for the weekend as it's for a present and it's too late to order online since it takes a week or more to be delivered. I don't even understand how you guys get business though considering I hardly see people in there and you had to move to a smaller shop space, I doubt you get much. Fix your customer service.

Hakki Simsekatan Added May 09, 2023

★ ☆ ☆ ☆ ☆

Cashier was very rude as she showed no interest to interacting with me and as she declined the fact I had a 50% off offer on sun glasses when I kindly asked her... however there was one guy who was very friendly and talkative about the offer assisting me nicely. But the cashier ruined my experience at city beach.

Donna Brown Added May 06, 2023

★ ☆ ☆ ☆ ☆

Went to Mt Druitt store earlier this week. Attempted to return products unsuitable. Girl attending never listened to my comments then proceeded to move to another register, whilst the whole time she was talking to her off sider up the ladder. I was then informed oh you can't return in store using Afterpay you need to call customer service. I had waited some 7 minutes to be informed this. Clearly no one listened to me in the begin. Then they proceeded to give me attitude when I requested a gift card instead. They actually spoke to me like I was by no means the customer who had spent money with their employers. NEVER again will I shop at City Beach. 1 Star is too high
Questions & Answers
1. What is the phone number for City Beach
The phone number for City Beach is +61 2 9208 6040.
2. Where is City Beach located?
City Beach is located at Westfield Mount Druitt, 210 Luxford Road Mount Druitt, NSW 2770.
3. Is there a primary contact for City Beach
You can contact City Beach by phone using number +61 2 9208 6040.
4. What is the web address (URL) for City Beach
The website for City Beach is citybeach.com.au.
Share this page
Additional actions
Today's weather in Mount Druitt NSW
13:00
27 ℃ 1002 hPa 65 % 3 m/s 16:00
26 ℃ 1001 hPa 69 % 2 m/s 19:00
21 ℃ 1001 hPa 85 % 2 m/s 22:00
17 ℃ 1001 hPa 95 % 1 m/s
Tomorrow's weather in Mount Druitt NSW
01:00
17 ℃ 1000 hPa 90 % 2 m/s 04:00
15 ℃ 1000 hPa 88 % 1 m/s 07:00
21 ℃ 1001 hPa 67 % 3 m/s 10:00
26 ℃ 1001 hPa 42 % 5 m/s 13:00
27 ℃ 999 hPa 39 % 5 m/s 16:00
26 ℃ 999 hPa 43 % 5 m/s 19:00
22 ℃ 1002 hPa 57 % 3 m/s 22:00
19 ℃ 1003 hPa 69 % 2 m/s